Valentine Quotes For Those in Love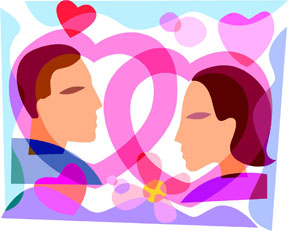 As a poet once said, "it is better to have loved and lost than never to have loved at all," Valentine quotes coupled with love is one of the major factors which inspire a person to be better, and more worthy of his loved one's regard.
In olden days, chivalrous knights held one fair and virtuous lady to be their guiding star and inspiration. They went forth to do good deeds in order to bring honor to the name of that good and fair Lady, and this idea of chivalry in the name of love is something everybody can aspire to. And the best time to show it is on Valentine's Day.
The best thing about knowing that you love somebody and are loved in return is that the best sort of love is unconditional. It does not aspire to change the loved one according to one's own notion of the perfect human being, and keeps loving a person even when he is old and gray or her beauty is lost due to the passing of time. This is the real essence of being in love. You know you belong to somebody heart and soul and that someone belongs to you.
Valentine quotes are going to inspire you to do just that. If they are not inspirational enough to give all your love unselfishly into the keeping of somebody else who can treasure it and cherish it, well, one needs to look at one's own possible selfish reasons for loving somebody just for the sake of material goods instead of giving that person a truly spiritual love.
Remember that love walks into your heart unseen, and all you have to do is recognize it for the powerful, positive force that it is. Once you know that love is there to stay, you need to treasure it, Cherish it, do not take it for granted, and be grateful that you have had somebody to love you and who you love in return.
Love needs to be nurtured, like a tender plant; if you do not cherish it, it is going to wither away unseen, thinking that it is unwanted.
Many people are afraid of love, because they do not want to take the chance of giving their heart to somebody to break, but they do not know that it is somebody's belief in you, which can make you climb every Mountain, and ford every stream.
Valentine Quotes telling your loved one that "She believes in me, I wonder what she sees in me," is enough to tell her that you are grateful for her faith in you. The only way in which you can do honor to this faith and belief is to love her faithfully, unconditionally and with your whole heart, in return!
What does a love quote show? It says, "Well, it is not possible for me to say the words, but here they are in front of you, written from the heart. I love you with everything that I have and am so happy that you love me too. Your sorrows are mine and my joys are yours, as long as you are there to share them with me." And if your loved one reciprocates with her heart and soul, well, you are a lucky man my friend!
---
Valentine Quotes—Celebrating Love
Valentine Quotes—Can Bring Love into Your Life!


For funny stuff check here.
Funny Family Cartoons are a great way to add a laugh and bring some more happiness into your life. Laughter is contagious and so is the clean humor found at



Family Fun Cartoons.
Copyright © 2008-2010 All Rights Reserved Family Fun Cartoons