Family Poems - Bonding Families With Enchantment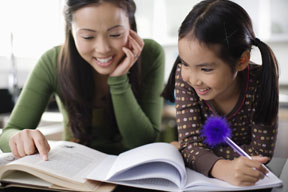 Family poems are a wonderful and beautiful way for children to connect more with their parents, siblings, and any other members of the immediate family—like the dog and cat. Oh, okay, let's not forget Aunt Betsy and Uncle Duke. If children are encouraged to write family poems, they are being encouraged to use their creative powers to understand more about how they love their family and how the family loves them back.

We live in a society that really emphasizes individuality. This is a wonderful thing, and I don't think we would want it any other way, because every one of us is unique and special. But sometimes, this means that as children grow up, they start to drift away from their families.

They might start to feel their parents don't understand them; or their brothers and sisters don't like the same kinds of things as they do; or the new dog and cat aren't as fluffy as the old dog and cat were. Maybe Aunt Betsy and Uncle Duke give them chocolate ice-cream when they want strawberry. So, they set out on their own to get more strawberry ice cream, and find fluffier pets; and pretty soon they haven't even called home for a year or more. This can be a very sad time for their family, which misses them.

The Power of Family Poems
Children naturally take to writing poetry. Poetry is enchanting because, well, it chants. Adults are always just "saying" something. They're always reading and writing prose. Did you ever stop to think that all of an adult's bills and tax forms and medical records are all written in prose? And really dull prose, too. What if all of that stuff were written as poetry? It might not make things cost any less money, but maybe people would smile more.

Writing poetry is more like writing words set to music, or even coming up with magic spells. So when children write or read family poems, they are receiving a sense of wonder and enchantment about their place in a family. They are feeling how magical it is to belong to a family. And especially if they write the poems themselves, they have to think about what things to say about Mommy, Daddy, doggie, kittie, cousin Bob, little sister, and everyone else concerned. And when they think of these things, they can see them in a whole new light, like they never have before.

Encouraging Poems
Adults can read poetry to their children. In fact, this is really not done enough these days. Mommy and Daddy should find favorite (and suitable) poetry to read to their children. The children who write their own family poems will naturally start using the rhythms, rhymes, and descriptive elements they hear and read in the other poems.

Children should definitely be encouraged to write their own unique poems. Children find much to be inspired by, and they are still discovering new things in words and language. Their poems can be very creative, imaginative, or heart-warming. They can teach the adults a few things with their poems, too.



---
Have A Great Poem You'd Like To Share?
Do you have a great poem to share that others may love it?
What Other Visitors Have Said
Click below to see contributions from other visitors to this page...

Softly Into the Night Not rated yet
Whimpers and grunts heard in the night
I stumbled to him, groggy, without sight
Offered his binky, he just shook his head,
Eyes shiny with tears …
Dancing Dreams

Blowing Breeze and Dancing Dreams
We walk always as lovely teams
Joy and gaiety all the way;
Come on children, God is Great...
Running race, my …
Family Memories Live On Not rated yet
The times I baked cookies in the kitchen with Mom
And my brother played ball with my Dad
The house always filled with wonderful smells
The memories …
A Parents Heart Not rated yet
When you feel like breaking down or crashing in,
Who do you turn to, to forgive your sin?
When you cried your lonely tears,
Who will be there to …
An Ode to a Set of Loving Parents Not rated yet
You are both special in every way,
Encouraging me more and more each passing day.
You both are the reason why I'm so strong,
With you two at the …
La Fleur Isolée

A lonely flower in a field,
Oblivious t'was destined to be.
Until another flower appeared,
And opened up his eyes for him to see.
He saw an angelic …
Dazy Not rated yet
I see beauty,
I see light,
I see sunshine,
In the night,
I see flowers,
All colorful and fair,
I see animals,
A bunny and a hare.
I see people, …
A Family Poem - I Froze My Mother Not rated yet
"I Froze My Mother" is yet another funny family poem contributed by Ted Scheu. This poem deals with the various nagging queries that children have and …
The Coolest Indoor Party Games for kids are very rewarding to create for this new generation of youngsters.
Birthday party games can be a real hoot for the very young especially hiding thing similar to the Easter Egg hunt.
This age group just love to dress up with fancy clothes and makeup—so there is no limit to what you can create!