Halloween Coloring Pages
Halloween is up and there are so many things that you and your kids can look forward to, especially in the Halloween coloring pages. In addition to your yearly tradition of carving a pumpkin, there is also the yearly job of getting a fun costume.
Last year, you may have gone the traditional way of trick-or-treating in your neighborhood, greeting everyone "Happy Halloween". Your kids may have been a fairy, a ghoul, a skeleton, a cute little witch and other interesting characters.
This year, why not think of introducing your kids to new activities? Think of things that you can do differently in making this year's Halloween fest memorable and more fun. Explore more of your well-loved Halloween characters by working on some Halloween coloring pages.
In addition to the jack-o-lanterns and fairy or ghoul costumes that gets you into the spirit or Halloween, why not celebrate this season with new activities like completing Halloween coloring pages. In addition to the games that you play with your kids, the cookies you make and or the contest your kids do in telling the scariest stories that they can create, why not make fun art, which you can use as your Halloween decorations in your home? You simply choose from the free and printable designs feature on the parenting and other fun kids' sites and start making your masterpiece in time for this year's event.
Finishing Halloween coloring pages can be added to your yearly Halloween activities. From collages to water color, to oil pastels and wax crayons, this activity can hone your kid's artistic potentials in using a number of coloring media. This is also a good way of keeping them occupied with things that can they do with their creativity. From pumpkin patches to witch colored patterns, completing a coloring page could be a big event in addition to your sugar-fueled Halloween extravaganza.
Introducing new activities to your kid's yearly Halloween parties could be challenging. Providing them with coloring pages that features many of the classic and traditional Halloween symbols and characters is one way of allowing them to pass time before they go trick-or-treating throughout the neighborhood. You can even make a contest out of these activity pages. It can be done as a mom-and-dad, mom-and kid, dad-and-kid, or sibling-to-sibling team. That will only make the activity more interesting and exciting both for the kids and the parents.
While you can find as many ideas and concepts that you can use with your costumes, there are also a wide selection of Halloween coloring pages that you and your kids can choose from. Printable patterns of bats, ghosts, jack-o-lanterns, spiders, witches and vampires can add colorful add-ons to your Halloween decorations. Allow your kid to work on a project or on the coloring page of his choice. After he's done, have it framed and display it in your house along with your Halloween knick knacks. Allow him to work his imagination and make every Halloween a fine opportunity for him to create new masterpieces each year.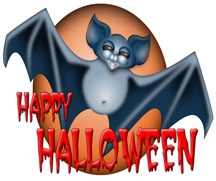 Imagine completing a fun coloring page each year. Imagine framing each and every page that your child completes in time for the Halloween season. These masterpieces make great memorabilia that they can return to every time the season comes. It can also be a fun activity where you and your kids can bond and complete an art piece together. Your kids will love your time finishing Halloween coloring pages together. Just remember to print as many Halloween coloring pages as you can because they will surely be asking for more.
Scary Pumpkin Faces


For funny stuff check here.
Funny Family Cartoons are a great way to laugh and bring more happiness into your life. Laughter is contagious and so is clean humor found at Family Fun Cartoons.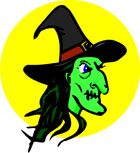 Copyright © 2008-2010 All Rights Reserved Family Fun Cartoons