Scary Pumpkin Faces and Skulls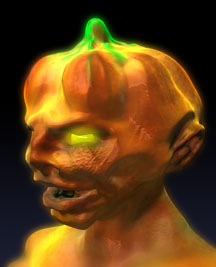 Okay, so what can be really scary about pumpkin faces? Jack o lantern with the usual cut-out eyes wouldn't scare a babe in arms and these so-called scary pumpkin faces are far from being scary. The fellow you see above here is more like a pumpkin face, he is rather handsome - as a pumpkin!
I know you kids love to do the scary bit and so do I. Have you ever thought how you could make something that would be truly frightening on Halloween night? Something that will make your friends scream in absolute terror?
We can find or make some shrunken heads for starters, and we'll need a touch of gory slime to plaster over these shrunken skulls.
Before we pour the gooey slime, let's think about how we can put a couple of eyes in the eye sockets that will make our skull more life-like and scary. Get a couple of reddish marbles and position them in the skull with plasticine. Then you only need one bulb inside the middle of the head to create a "glow" which then gives it a bit of life. You can purchase these plastic shrunken heads at many art stores or Michaels or most craft stores, they're cheap.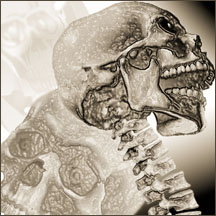 You need to work on painting your skull with dark gray and green mixed in together, with a slight touch of purple. Then do the above with the eyes but make them look sunken which looks more sinister and scary. Then put in the small 2.5 volt bulb and battery and connect up. You can just have 2 wires hanging out the bottom to connect to save running down the battery.
So it is now gonna be "Trick or Scare"? We won't worry about the candy or treats because we want to scare the pants of everyone, including adults.
Let's get creative and make some blood, nice dripping blood as you often see from the Hollywood-Halloween movies. This is fairly easy and only takes a few minutes; get some karo syrup and food coloring, red for blood and green for slime. You now have to dribble the goo over your shrunken skull and make the slime green run into the blood. You should now have a pretty scary skull and any very young kid will pee in his pants!
Now get a few black spiders, okay, not the real ones, only those you can buy for a few pence from a craft store. Then place one or two on the head, they should stick to the goo without falling off. Or, if you are feeling really creative, stick lots of them on the top of the head to make it appear as if it is hair. With a little blood and slime it should look pretty convincing.
And so, on the magic witches night, put on your very old clothes, an old T-shirt or whatever you don't mind getting messed up. Then smear some of your homemade blood on your face and some very dark face paint around your eyes, make them look sunken like your shrunken skull. Now go and knock on a few doors with your witches screech - a high pitch screech that makes your skin crawl - and everyone else in the neighborhood. Your aim is to have fun, so go and do it.
---
Scary Pumpkin Faces —Can give you the creeps!
---


For funny stuff check here.
Funny Cartoons are a great way to laugh and bring more happiness into your life. Laughter is contagious and so is clean humor found at Family Fun Cartoons.




Copyright © 2008-2010 All Rights Reserved Family Fun Cartoons