Your Guide to Cartoon Dogs and Their Crazy Behavior
Everyone Loves a Cartoon Dog
It's safe to say that everyone loves cartoon dogs! There have been a number of great dog cartoons throughout history, each with its own distinct ability to make millions of kids (and adults!) laugh until their face turns blue.

Some of the best Dog Cartoons
Some of these doggie cartoons had their own television shows, and others were brought to us through comic strips or books, but one thing's for sure - the world will never forget their antics! Here is a list of some of the best doggie cartoons in history.

Scooby Doo
Scooby Doo is definitely high on the list as one of the cleverest dogs in history. Scooby, along with his mystery-solving team, got into quite a few sticky situations that were both exciting and hilarious at the same time.

Snoopy
Ah, Snoopy, the beloved Peanuts character. Snoopy, along with his cartoon friends and yellow bird pal, was one of the funniest laughing dogs in history. His comic strip continues to tickle the funny bone of people around the country with his funny jokes even to this day.

Ren
Not everyone remembers the show Ren and Stimpy on Nickelodeon, but we sure do! It was a cartoon about a dog and a cat who were good friends and lived together. Ren was definitely one of the craziest dogs that we had ever seen, and he was always getting into lots of trouble with his friend Stimpy!
The Underdog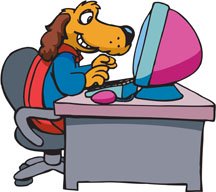 Underdog is the most courageous dog in this list. He was great at saving people, cats, and other dogs in his cartoon show. Bad dogs feared Underdog because he was so strong and mighty. Now he is forever immortalized in the "underdog" swinging game, where children push their friend's swing up high in the air and then run under it.
Astro
Astro was the Jetsons' lovable cosmic pet. The Jetsons were a family of the future, who lived in a space pad and had a robotic maid. Astro was probably the best-behaved pet of the future that we've ever seen!
Blue
Blue from the TV show Blue's Clues is the youngest cartoon dog on this list, as Blue's Clues only came out about 10 years ago. On this hit cartoon, Blue helps his friend Steve understand what he wants by stationing clues around the house. Steve and the audience have a fun time solving the mystery and learning about the world along the way.
Clifford the Big Red Dog
Clifford is by far the biggest, as far as big dogs go! He started as a little puppy, but quickly grew to be larger than a house! Good thing his friend Emily Elizabeth doesn't mind his gigantic size. And we wouldn't either, if we had a dog as sweet as Clifford.