Kids Toys From Babies To Big Kids
Kids Toys from the very young to Teens
For the very young kids, there is a variety of softly stuffed dolls. These are embroidered or printed with specific logos, Plush dolls mainly for young girls; or slightly tougher PVC but also soft with eco-friendly plastic.
There are age limits on kids toys but they are a rough guide only, they are not set in stone as every child is different. Most toy makers know which toy would suit a specific age but your child may be two years older in intelligence.
There's a great new range of toy hamsters called Zhu Zhu. They also go under the name of GOGo pets which are clean, do not small and don't require feeding. But hey, they do make their funny squeaks and some of them are mobile when fed on AA batteries! Accessories galore from hamster wheels, toy hamster houses, a hamster car complete with garage. If your kids love pets, this is the way to go. These furry four-legged hamsters are the current rage for children in the 1 to 4 year old.
Kids toys going up in age from 3 thru to about 5 really need toys to keep their minds active with a little stimulation. Coloring pages and books might fit in here where kids start to become familiar with color and shapes of animals, cars, fairies, plants, coloring the alphabet, their pets, and thousands more. Coloring pages is not an ideal educational toy as such but it certainly get their creative juices flowing.
Some toys may not be appropriate for young children, some toys may have parts that could be a choking hazard; or toys requiring physical input (similar to hopscotch) where the kids physical skills are not yet developed.
Kids toys in the age range of 5 thru 7 begin to develop their own ideas about toys. Their ideas and tastes change by the second. Ben 10 maybe in today but tomorrow it will be the Transformers.
Here are some truly wonderful toys for kids:
There's the Kickboard Kick Scooter (Mini) a three-wheeler suitable for kids 5 to about 10 and the Maxi for much bigger kids from 10 upwards. This is a safe toy for kids with its lightweight plastic base and has in line Rollerblade wheels. Maneuverable, requires no gas, gets your kids fit and is fun.
Princess Tiana
You probably saw the new movie The Princess and the Frog? By Disney. Then you probably met Princess Tiana and Prince Naveen. The Prince asks the Princess for just one kiss but the Princess turns her head away. He tries again and again to kiss her and each time she turns away. Finally he manages to get a first kiss and everything lights up!
Ms. Frizzle and her students take young to-be scientists diving into slimed goo, gels and aqueous goop with funny, awesome experiments. These young scientists will learn how to make glue and other horrendous stuff like polymers, powdery snow, and bouncing balls, absorbent crystals and oobleck. (Oobleck is a green slime that falls from the sky. The Oobleck is so sticky that it gums up the whole place until the day is saved by Bartholomo the funny character from Dr. Seuss book. Hey, but it's fun and kids love it).
Who wants to be a CSI dude in the Evidence Labs?
The new Spy Gear Evidence kit helps to solve Sherlock Holmes' type crimes where you can take real fingerprints, (not blood stains analysis) You get a great microscope, fingerprint powder, dusting brush, those fancy lights where you can see those invisible clues and other detective stuff. Watch a CSI episode first then check out this kit, see if there is anything Horatio might want to use.
Scientific Explorer from Kazoo Toys will add fun and exploration to your child's day!
Pre-teens are not easy to please as they become more selective and even tougher when in their teens.Here are some creative toys for kids in the 7 to 11 bracket:
A Lamborghini Gallardo LP560-4 Lego
Kids do get bored when building the usual stuff with Lego, it becomes too easy. But wait until they see the new Gallardo. They will be enthralled. The kit has over 700 pieces, with opening doors, an engine cover and the famous Lamborghini rims...it's a great looking car.
Those monstrous Nanovors
Kids love these Nanovors collections and trade them quite often online. You have to have the Nanoscope game so you can battle against the Nanovors.
The Ben 10 Alien Force - great kids toys for all ages
Can you create a great alien...you have to create an alien matching the card before time expires? If you are dawdling, all the pieces pop out and go flying all over the room. If you like Ben 10, you'll like this game.
RC Helicopters
These remote controled helicopters are great for young kids and beginners. RC's are recommended for kids and adults just itching to fly inside their living room!
You will be delighted by the precise control you have with these RC Helicopters. It flies very well outside if it is not too windy. Want an even more precise flying helicopter? Get the Dragon RC helicopter packages with a simulator! All these RC helicopters come fully assembled and ready to fly. All you have to do is charge the batteries and you are away.
Cool New Hobbies Like RC Helicopters Are On Sale Today. Free Shipping Too!
---
---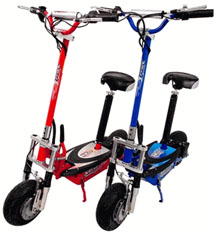 Electrice Scooters
You will be amazed by the speeds that these electric scooters can achieve and the ride is super smooth too! Now you can ride around on an electric scooter and do your errands in style. Electric scooters make the perfect traveling method to beat high gas prices!
Flying about on an electric scooter can be a lot of fun and an economical way of getting from place to place. Electric scooters are green and environmentally friendly. These electric scooters are so quiet you can creep in and out without your neighbors knowing.
The Pink electric scooter is the most economical scooter a available. This Pink baby is quick, portable and a joy to ride. You can pack it up and put it in your suitcase. The Pinks energy efficient motor makes the scooter trot along at speeds up to 15 mph for 10-12 miles per charge. Not bad eh? It has eight inch tires and hand activated brake for a safe, smooth and comfortable ride. Quick release folding mechanism provides compact storage and transportation. Get one today and start riding around in style on this Pink baby.
A Fun Electric Scooter And other outdoor toys!
Kids Toy Review
Your kids toys - are they good or are they just okay - or are they poor and unacceptable? What are your kids opinions about their toys? Your answers will be helpful to other moms and dads.
What Other Visitors Have Reviewed
Click below to see reviews from other visitors to this page...

---
Kids Toys - From Babies To Teens!

Kids Toys

Kids Toys
Fun downloadable
printable mini story books for kids.
Cute craft activity for preschools, kindergarten, and homeschooling.
Funny cartoons are a great way to laugh and bring more happiness into your life. Laughter is contagious and so is clean humor found at



Family Fun Cartoons.
Enjoy This Site?
Then why not use the button below, to add us to your favorite bookmarking service?



Copyright © 2008-2010 All Rights Reserved Family Fun Cartoons